A CNN host called Donald Trump a "piece of s**t" and a "man-baby" following the President's widely-criticized response to the London terror attack.
Reza Aslan said Mr Trump was an "embarrassment to America" after the commander-in-chief made a series of statements on Twitter linking the attack on London Bridge and Borough Market to his own domestic political agenda.
The President, taking Sadiq Khan's words about armed police out of context, also said: "At least 7 dead and 48 wounded in terror attack and Mayor of London says there is 'no reason to be alarmed!'"
In response to Mr Trump's tweet calling for his Muslim travel ban to be put in place, Mr Aslan tweeted: "This piece of s**t is not just an embarrassment to America and a stain on the presidency. He's an embarrassment to humankind."
Mr Aslan, the host of CNN's Believer programme, a "spiritual adventure series" about religion, has since deleted the post and apologized.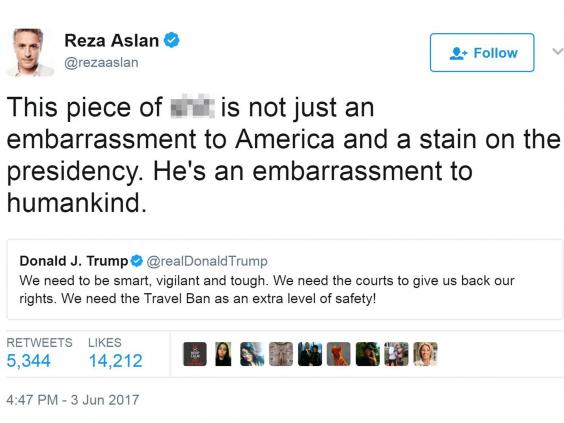 He said later: "When in the first few minutes of the terror attack in London, the President of the United States tweeted about his travel ban, I lost my cool and responded to him in a derogatory fashion.
"That's not like me. I should have used better language to express my shock and frustration at the President's lack of decorum and sympathy for the victims of London."
However, Mr Aslan's message calling Mr Trump "a man-baby that must be ignored in times of crisis" remains live. It was in response to NBC News' decision not to cover Mr Trump's re-tweet of an unverified Drudge Report story about the London attack.
Mr Trump sent a string of tweets following the attack by three men armed with knives, in which seven people were killed and dozens injured.