LATEST NEWS
The 2018 AMAA winner of the best actress posted a video of herself dancing with her daughters

Watch video below:




Get link

Facebook

Twitter

Pinterest

Email

Other Apps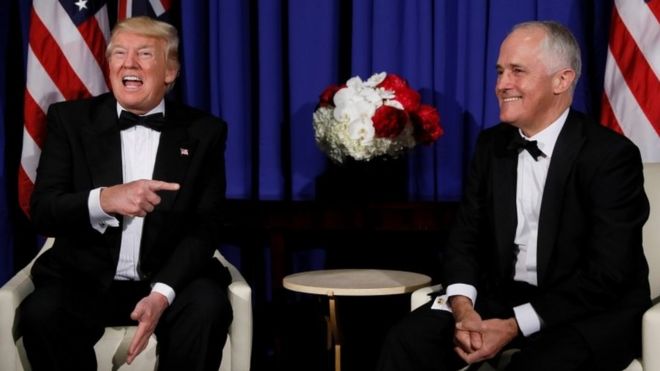 Mr Turnbull was filmed speaking at an event for the Australian media at Parliament House on Wednesday night.
The event is normally not reported on, but the political editor at Australia's Nine Network said he had chosen to break protocol and make it public.
Mr Turnbull said the report was "a breach of faith."
Mr Trump and Mr Turnbull recently repaired ties after a troubled start.
They had an acrimonious first phone call over Mr Trump's reluctance to honour a deal to accept up to 1,200 refugees from Australian detention camps.
But last month the two leaders met in New York, after which Mr Trump described their relationship as "fantastic".
'Winning at the polls'
In the leaked footage, Mr Turnbull performs a jokey routine for guests at the Mid Winter Ball for the media.
Adopting the mannerisms of the president, he says their meeting was "beautiful. It was the most beautiful putting-me-at-ease ever".
"The Donald and I, we are winning and winning in the polls. We are winning so much, we are winning, we are winning like we have never won before," he said.
Mr Turnbull saw a 10-point drop in approval ratings for his government in a March poll, with only a slight recovery in the latest May numbers.
But Mr Trump is also facing tough polling numbers - his disapproval rating hit a new high of 59% in a recent Gallup poll.
Mr Turnbull also jokes that polls are "so easy to win" adding: "I have this Russian guy..." in reference to Mr Trump's long-running difficulties with allegations that his campaign officials may have colluded with Russian hackers to influence the election outcome.
Get link

Facebook

Twitter

Pinterest

Email

Other Apps