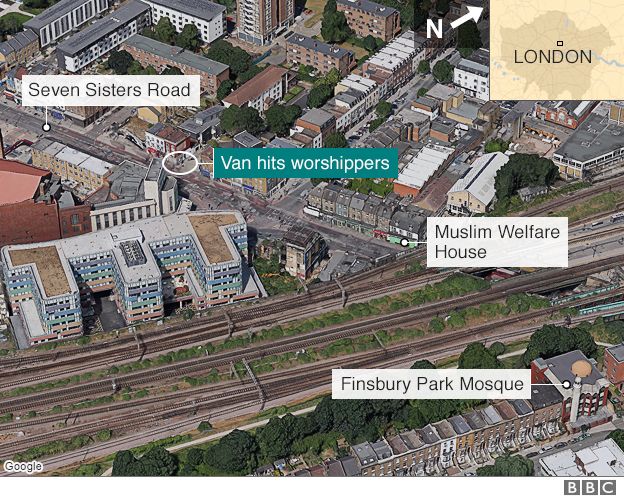 Eight people were taken to hospital after the "terrorist attack" near Finsbury Park Mosque, police said.
A group of people were helping a man who had collapsed when they were hit by the van just after midnight. The man has died, but it is unclear whether this was as a result of the attack.
A 48-year-old man has been arrested on suspicion of attempted murder.
Police said all the victims of the attack, which took place outside Muslim Welfare House, were Muslim.
Eyewitness Abdul Rahman said the driver had said he wanted to "kill all Muslims" and told the BBC he struck the man and helped subdue him.
Metropolitan Police's deputy assistant commissioner Neil Basu said the "terrorist attack" began when the van was driven into a man who was already being given first aid by the public on the pavement.
"Sadly that man has died. It is too early to state if his death was a result of this attack."
Police also said he would be "subject of a mental health assessment in due course".
Several of those in hospital are "seriously injured" and there are currently no-other suspects, he added.
Extra police are being deployed to reassure communities, especially those observing Ramadan, Mayor of London Sadiq Khan said.
He also said his "thoughts and prayers" were with those affected by the "horrific terrorist attack on innocent people".
"While this appears to be an attack on a particular community, like the terrible attacks in Manchester, Westminster and London Bridge it is also an assault on all our shared values of tolerance, freedom and respect."
Forensics officers are examining a white van which has Pontyclun Van Hire on it - a firm from Rhondda Cynon Taff in south Wales.
Mr Rahman, an eyewitness, said: "When the guy came out from his van he wanted to escape, run away and he was saying 'I want to kill Muslims. 'I want to kill Muslims.'
"I hit him on his stomach... and then me and the other guys... we held him to the ground until he couldn't move. We stopped him until the police came."