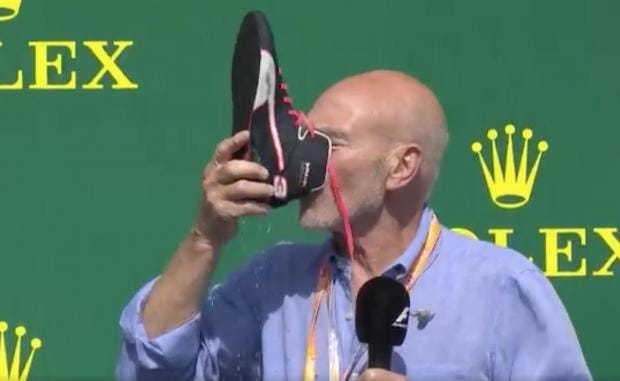 Sir Patrick Stewart enthusiastically joined Daniel Ricciardo in a 'shoey' celebration on the Formula 1 podium on Sunday, drinking champagne from the driver's boot with gusto.
The stunt has become Ricciardo's trademark celebration, and Stewart saw it a mile off.
"Oh my. I know what's coming. This is becoming a ritual!" the Shakespearean actor said, before adding: "I'd love some, yeah. Come on!"
Lifting the shoe to his lips, Sir Patrick drained it before declaring: "Bravo! Good vintage!"
"I'm proud of you for doing that. That's something I couldn't do," race winner Lewis Hamilton confessed to Stewart afterwards.
"You see how sweaty his feet are? There's a lot of toe-jam in that shoe."
"I don't care, I don't care!" he said.
"I made the podium for the first time! I will drink out of anybody's shoes!"
Sir Patrick Stewart's next cinematic role is none other than the poop emoji.