Clashes Erupt Amid Holy Site Tensions In East Jerusalem
Israeli forces and Palestinians have clashed in East Jerusalem and the occupied West Bank amid friction over a Jerusalem holy site.
Water canon and tear gas were fired after rioters threw stones and other objects outside the walls of the Old City, police said.
Clashes were also reported at the Qalandia checkpoint between Jerusalem and the West Bank.
Tensions have soared since two Israeli policemen were shot dead last Friday.
Three Israeli Arab gunmen killed the officers near the holy site know to Muslims as Haram al-Sharif and to Jews as the Temple mount. The gunmen were shot dead after being pursued into the sacred compound.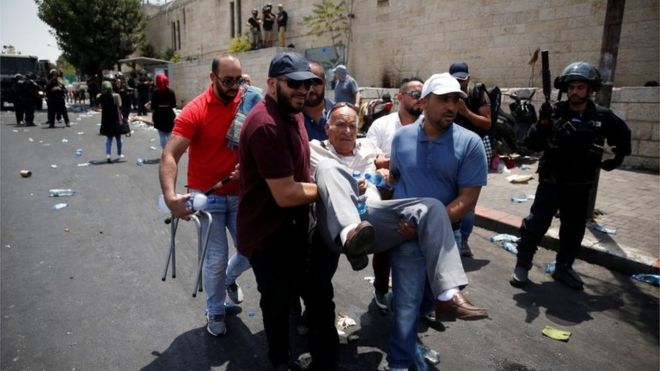 Palestinian factions had called for a "day of rage" on Friday in protest at the installation by Israel of metal detectors at the entrance to the site.
Meanwhile, a Palestinian man has been shot dead in East Jerusalem, Palestinian officials say. The circumstances were not immediately clear.
Palestinian and Islamic leaders have fiercely objected to the metal detectors, saying the measure is a violation of the status quo.
Israel says it is a necessary for security after the weapons used to kill the policemen were smuggled into the holy site.
The area, in East Jerusalem, has been under Israeli occupation since the 1967 Middle East war.
Israel has repeatedly pledged to maintain the status quo - a delicate set of arrangements in place at the site for the past 50 years. Any changes there are often regarded by Palestinians, who claim East Jerusalem as the capital of a sought-after state, as a violation of these arrangements.