After making a triumphant return with "Praying" earlier this month, Kesha is back with another new song from her upcoming album Rainbow, and it is, as the kids say, a bop.
Titled "Woman," the song features the late Sharon Jones's band the Dap-Kings on horns (they also worked on Amy Winehouse's
Back to Black
), and a rousing chorus that starts off with the line, "I'm a motherfuckin' woman, baby, alright / I don't need a man to be holdin' me too tight." Amen.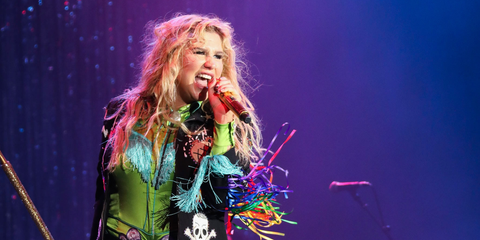 Watch music video below:
In an essay for

Rolling Stone

, Kesha explained the inspiration behind the song, which she cowrote with two male colleagues.

"It was such a beautiful experience to write such a strong female empowerment song with two men,"

she said,

"because it reinforces how supportive men can be of women

and

feminism."

She also wrote that

Rainbow

sounds more like music she actually listens to than much of the music she's made in the past and that she gained more confidence in her last tour.
"I have always been a feminist, but for much of my life I felt like a little girl trying to figure things out,"
she wrote.
"In the past few years, I have felt like a woman more than ever. I just feel the strength and awesomeness and power of being female. We hold the key to humanity. ... I just really fucking love being a woman and I wanted an anthem for anyone else who wants to yell about being self-sufficient and strong."
Rainbow
is out Aug. 11.