Africa Initiative For Governance (AIG) Announces Its Inaugural AIG Scholarship Recipients – Apply Now for the 2018/2019 AIG Scholarships
Six young West Africans have been announced as the inaugural recipients of the prestigious, fully funded Africa Initiative for Governance (AIG) Scholarships which were established to inspire the development of a high performing public sector across Africa.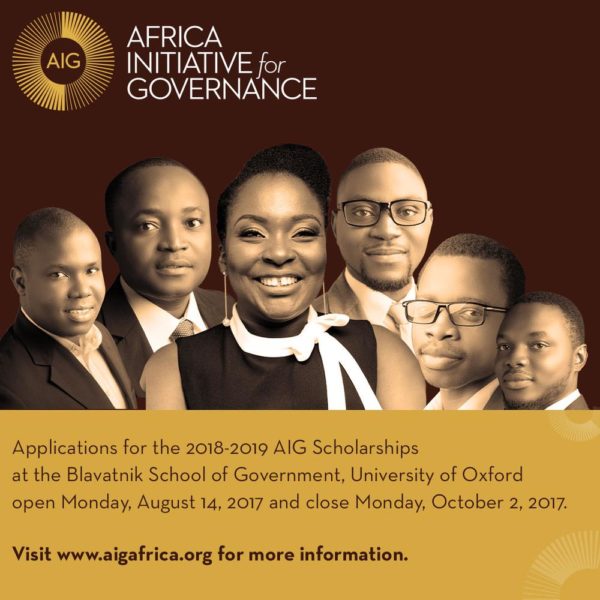 These talented individuals are set to leave for the Blavatnik School of Government at the University of Oxford to pursue the Master of Public Policy degree, after which they will return to their home countries to work in the public sector.
For 2017, the opening year of the Scholarships, AIG elected to fund an additional scholarship, bringing the total number of AIG Scholarships awarded in the year to six. The 2017 AIG Scholarship recipients are Emokiniovo Akpughe (Nigeria), Efosa Trevor Edobor (Nigeria), Abdul-Fatawu Z. Hakeem (Ghana), Chukwunonso Iheoma (Nigeria), Oluwapelumi Simpson (Nigeria) and Emmanuel Taiwo (Nigeria).
"We are pleased to support our six AIG Scholars in their aspiration to acquire the skills and experience that will enable them to elevate their capabilities and contribute meaningfully to the development of their nations," said Aigboje Aig-Imoukhuede, AIG Founder, and Chairman. "These outstanding, young Africans will return home after their studies as high-performing public servants."
In June 2016, AIG signed a partnership with the Blavatnik School of Government at the University of Oxford, based on a shared vision of improving the world through good governance and public leadership. Under the partnership, AIG will fund five scholarships for graduate study at BSG over the next five years.
"AIG's vision is to be a catalyst for public sector transformation – we work with governments, academic institutions, and other partners in order to achieve this goal," said Chienye Ogwo, Chief Executive Officer of AIG.
"We believe that real economic growth in Africa can only be sustained on the backbone of a dynamic and vigorous public sector. Enhancing competencies, therefore, is an indispensable lever for the achievement of this transformation."
Emmanuel Taiwo, a first-class Geography graduate of the University of Lagos, Nigeria, and one of the 2017 AIG Scholars said: "As a young person intending to help transform my country, I believe that excellence in public service is the way to go,". "Studying at the University of Oxford promises to be a life changing experience for me and positions me to serve my country in a vital policy advisory capacity."
Applications are now being accepted for the 2018-2019 AIG Scholarships. The application window will close Monday, October 2nd, 2017.
For more information, visit the website

here.
Source: BN